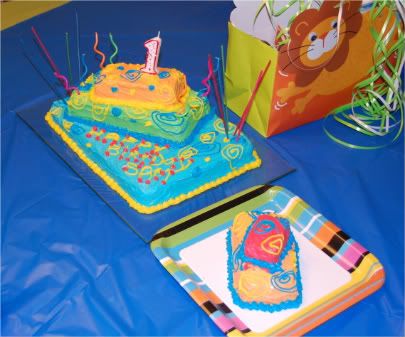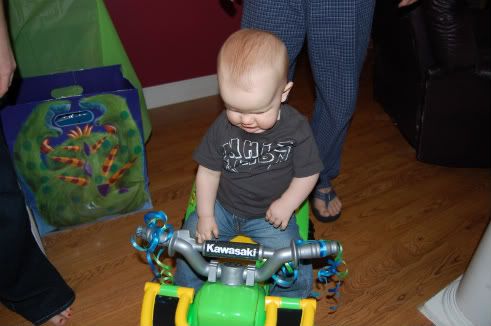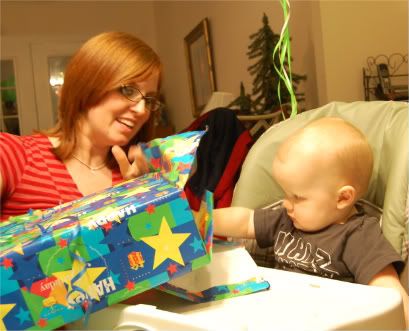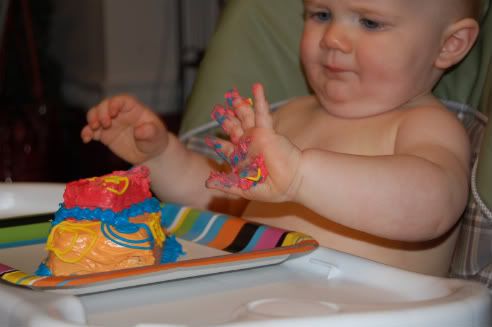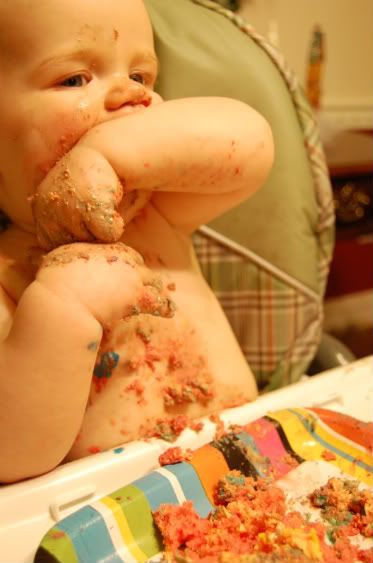 what's the point in having a blog if you don't update, right? i really can't believe it's been as long as it has but since it has been a couple of months i'm going to blame it on the holidays and the pregnancy! :)
sam turned one on december 17. matt and i are still in shock that he's a year old! it's crazy just how quickly time passes by. his birthday was lots of fun! we actually had his party the day after because matt and i both had to work the day of. we just had a little family get together. he totally enjoyed it and you could tell that he kinda knew that it was all for him. i looked at matt the other day and said, can you believe that we only have 17.5 more years until he heads off to college?? matt just looked at me like i was a moron but that's ok.....
our christmas was wonderful! we had such a good time! santa came to visit sam and although we know he doesn't 'get' it yet, it was so cute to watch him playing with his new toys. the problem is that everyone got him so much stuff that we now have nowhere to put all of it in our house! our house is not that big people! we're tripping over toys everywhere we turn! we also talked to sam about what christmas is really about. it's so neat to start our own family traditions. who would have thought having kids would be so much fun?!!? you get to turn back into a kid yourself at christmas!
i have some pics from his birthday downloaded onto my computer. christmas pics will have to come at a later date. i promise not to wait too long! in the pics you'll see the little 4 wheeler he got from a few family members, he's already learning how to ride it, it's hilarious!!! oh, and he had a blast with his smash cake! i wish i had pics of him opening his presents from matt's family. they couldn't be here cause they live in texas but they sent a giant box full of gifts just for sam! we skyped them and let them watch him open them. i was so focused on skyping them though that i totally forgot to get the camera out! sorry!
oh, and yes, his cake says 'happy birtday sam'....i used to say birtday as a kid so since i made the cake i wrote that, just a little 'amy humor'.
guess i should also throw in a quick update on the baby! we are almost to the 3RD TRIMESTER!!!!!! this pregnancy has totally flown by! who would have known? we have less than 13 weeks left until we meet this little guy. we know this much cause he'll be a scheduled c-section. by the way, trying to name your second child is near about impossible! with sam we of course made our little list and added and crossed off names. truth be told though, i had alway loved the name samuel and matt really like cade. it just so happened that they matched up perfectly. therefore samuel cade came into our lives. this time however....totally different story! everytime we came up with something, someone had to put in their two cents. i will add that we didn't always ask for people opinions but we got them anyway. oi! we really thought we had it narrowed down a few weeks ago but the problem was that i just LOVE the name cole....and while we really really liked the names we had narrowed it to, we just didn't love them. all parents out there know exactly what i'm talking about. so, i told matt i really want cole to be part of his name...you pick out the rest. matt wanted this one to have another strong bible name with meaning so he finally came up with.....wait for it.....are you ready.....judah cole!!!!! and finally we are happy about a name! it means praise! we had actually discussed the name awhile back but just weren't sure until now. so, judah cole will be here at the end of march!!!!!!!